The citron of Calabria in southern Italy had almost died out from extreme weather and lack of economic value. But growing the crop under a canopy of solar panels has given the fruit a new lease of life – with lessons for many climate-stressed crops.
On a warm late winter morning, Antonio Lancellotta, a 35-year-old farmer, shows me around one of his family's unorthodox 1.8-acre (7,280 square metre) greenhouse in Scalea, southern Italy. Rows of lush citron trees (Citrus medica), heavy with white flowers fill the space. Yet, above the trees, at about 12.5ft (3.8m) above the ground, alternating lines of transparent plastic sheets and photovoltaic panels roofed the field. The Lancellotta family was one of the first in Italy to experiment with "agrivoltaics", where crops are grown underneath solar panels.
"Look at the quality of this citron," Lancellotta says, holding a large heart-shaped yellow fruit. "Perfect."
Over the centuries, thanks to a mild climate, locals in this corner of Italy specialised in growing these large Liscia Diamante (which translates to "smooth diamond") fruits – which can weigh up to 11lb (5kg) each – to meet the demand of perfume makers who used the rind's essential oils. Jewish priests traveled from far away to select the fruits for use in prayer during the seven-day religious festival Sukkot. Every family had a few citron trees: the area prospered and took on the name of Riviera dei Cedri.
However, in the last 50 years, the Liscia Diamante almost went extinct as Calabrians migrated elsewhere searching for a better life, and cheaper industrial substitutes replaced essential oils. It made little economic sense for those who stayed behind to keep growing the fruit.
In 2009, Antonio's father, Mario, an agronomist and accountant, stumbled upon agrivoltaics. This concept had been around since the 1980s, and the agronomist saw it as an exciting investment opportunity. What if producing energy could support the production of the local endangered citron that, to grow well, needed some natural or artificial shade?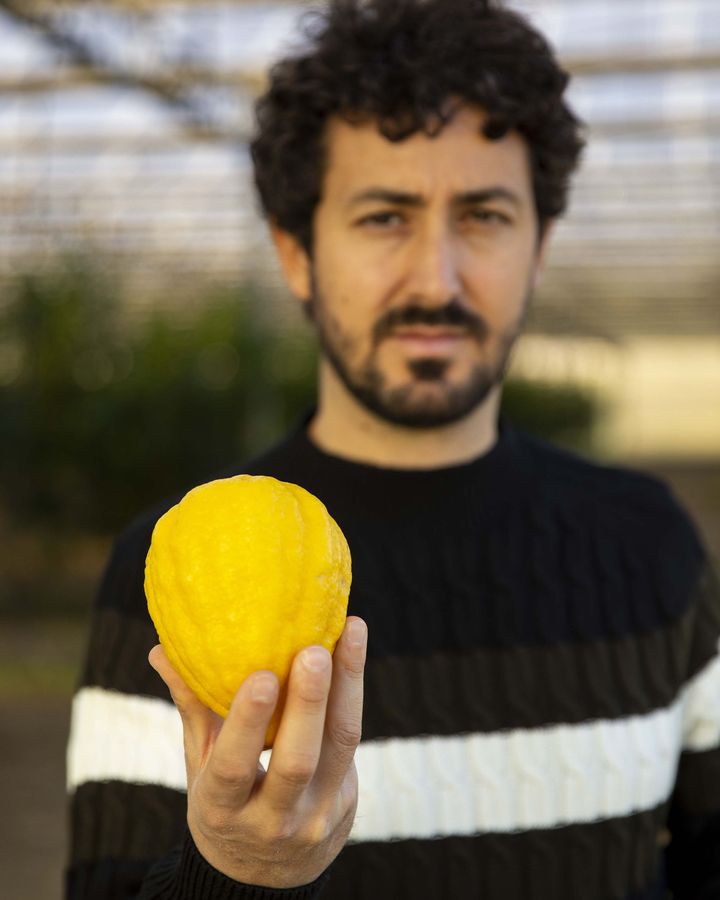 The citron is a historic fruit in the south of Italy, with ritual significance in Judaism, and is also prized for its perfume (Credit: Agostino Petroni)
His idea was in line with a larger trend. That same year, the European Union issued a directive to its member states to ensure 20% of their energy was from renewable sources by 2020, leading to a race to set up solar farms. Some farmers preferred to sell or rent their land to renewable energy production companies long-term because of the more secure income. While the European Union has now surpassed the 20% goal, globally the figure for solar is still low. According to a 2021 report by the International Energy Agency, photovoltaic energy production accounts for only 3.6% of global electricity generation, though it is growing fast.
According to Sylvia Kay, a British researcher at the non-profit research and advocacy think tank the Transnational Institute, the quest for renewable energy production in the past decade triggered a trend to reallocate land used for crop cultivation for renewable energy production.
"It set up sort of competing land uses," Kay says. In partnership with Via Campesina, an International farmers' organisation, she compiled a report on European land concentration and "green grabbing", the displacement of farmland for renewable energy production.
In many parts of the world, the development of large solar projects on agricultural land has sidelined local communities, who see few benefits from the project and face unemployment as local agricultural jobs disappear. In recent years, the tension between agricultural and solar land has been felt in the US, India and China, among other solar producers.
"There's a question of consent, consultation and proper planning procedures," Kay says.
Still, today, the need for renewable energy to curb the effects of climate change and reach self-sufficiency is increasing in the EU and worldwide. Countries such as Japan, France, Germany, the US, and Italy are looking at ways to keep their precious, cultivable lands and meet demand for Sun-powered energy.
Lancelotta is sure that agrivoltaics is the right solution. He believes that the farming side of the business should be preserved and strengthened by solar, and not compromised. "Farmers have always been taking care of the territory," Lancellotta says.
Still, because of its novelty, higher installation costs, some farmers' resistance to change, and the lack of clear legislation, there is a long way to go before agrivoltaics goes mainstream.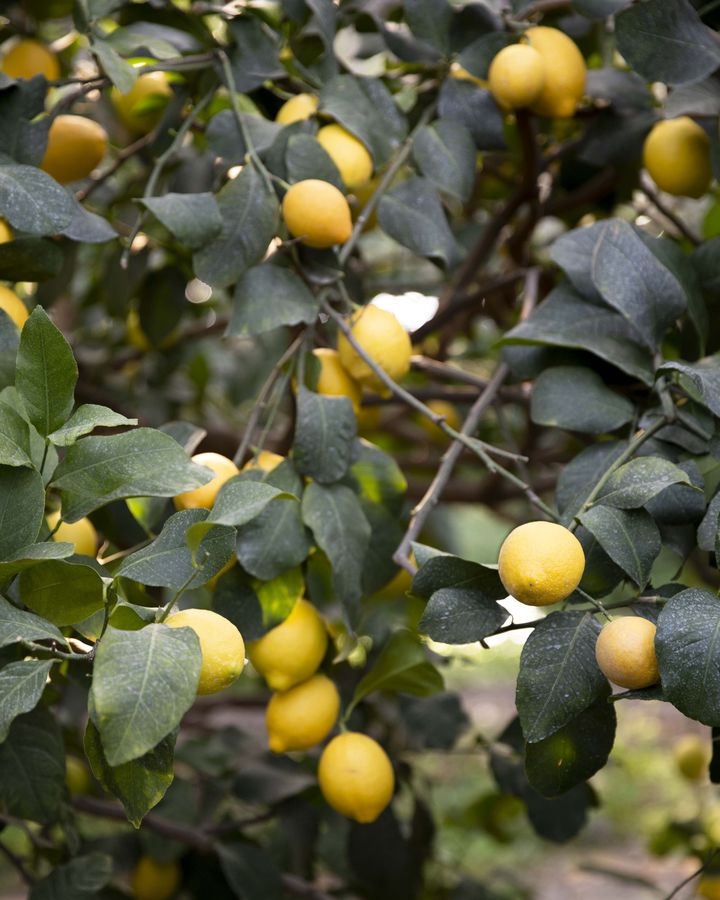 Both lemon trees and citron trees have benefitted from the relative cool and shade beneath the solar panels (Credit: Agostino Petroni)
Lancellotta walks me to another 3.7-acre (15,000 sq m) greenhouse filled with 1,250 lemon trees. As he talks of his fruits with pride, I felt a hint of disappointment. He had invited me to witness the lemon harvest, which he had cancelled last minute. I had anticipated seeing people at work plucking lemons and the air filled with a fresh citrus scent.
But the entrepreneur, who has dark curly hair and wears black-framed glasses, doesn't seem worried about the missed harvest. Market prices were 40% below his €1 ($1.1/£0.9) per kilo threshold, so he decided to keep his lemons hanging until buyers changed their minds. It's an unusual approach in agriculture, where farmers, fearing the loss of a year's work, are often forced to sell at the going rate, whatever that is.
The reason for Lancellotta's security in being able to wait the market? The solar panels over our heads.
"We could easily decide to let the fruits go to waste, even though we won't because we'll try to find a compromise because we have another source of income from energy production," Lancellotta says. "Finally, farmers can regain bargaining power."
Producing renewable energy on their 100 acres (40ha) of agrivoltaic farmland around Italy not only gives the Lancellottas an alternative income to agriculture by generating enough clean electricity for 16,000 families, but it also improves their fruits. According to the entrepreneur, the cover provided by the panels reduces the citruses' water needs by 70%. The fruits are larger, a better colour and have fewer defects from exposure to the elements. They also carry a higher concentration of essential oils in their rind.
Lancellotta notes the common misconception that under shade, crops don't grow well. "But instead," he says, pausing at a lemon tree and taking a ripe lemon in his hand with a big smile.
Furthermore, the roof protects the plants against extreme climate events: in 2017, as an unusual winter frost damaged most citron plants of the region, the Lancellottas' trees survived because the panels protected them. They freely distributed grafts of their trees to growers who lost their plants, helping to protect the region's ancient agricultural tradition.
It's a problem far from unique to citron and lemons. Climate change is impacting agriculture worldwide, as extreme weather events become more common.
"Floods, landslides – agriculture is already a fragile sector from this point of view because it's under the sky. You have to try protect it," says Mariangela Lancellotta, who also works for the family firm. She and other agrivoltaics proponents hope that the practice could benefit a wide range of crops under pressure.
For the past 20 years Joshua Pearce, a photovoltaic researcher and professor at Western University in Ontario, Canada, has been studying how agrivoltaics protects crops and increases yields in berries, fruits, grains and all different kinds of vegetables.
"There's a giant race on with everybody in the world to figure out the best type of photovoltaic arrangement for a specific crop in a specific area," Pearce says.
Pearce points to a study showing how at the end of the century, pine trees won't be able to grow in some regions of Canada anymore because of warming weather. So, he's been talking to Christmas tree farms about trying out agrivoltaics to protect their crop.
"At least to me, it is completely non-intuitive that you could actually get higher yields for Christmas trees and wheat and corn by shading them a little bit," Pearce says.
Agrivoltaic farming can come in different shapes and forms: Pearce refers to the elevated solar panels Lancellotta uses as the "European model" because, in Canada, thanks to the large availability of farmland, the panels are still mainly positioned directly on the ground and spaced far apart, functioning as windbreakers, with cultivation or sheep grazing in between.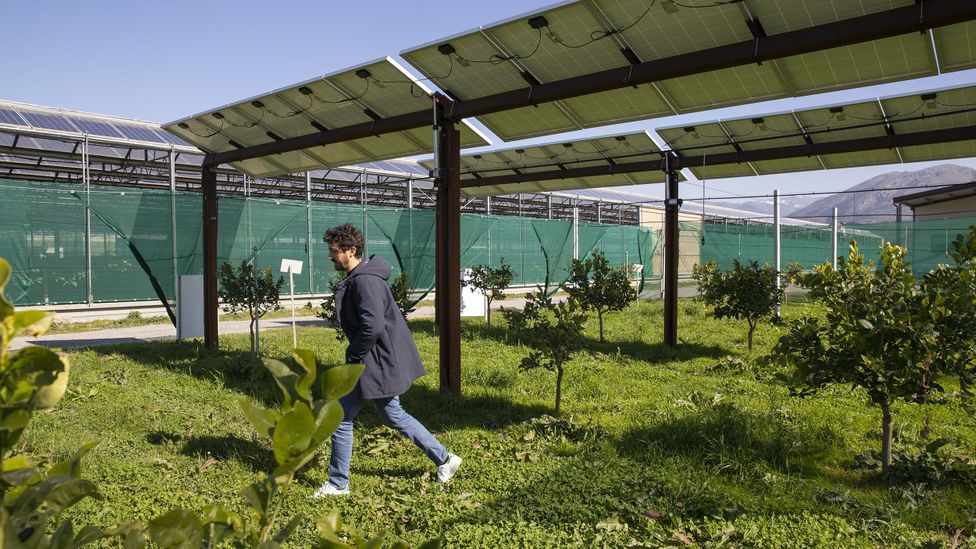 Installing raised panels costs more than ground-mounted arrays, but the benefits for the farming community of keeping the land could outweigh the costs (Credit: Agostino Petroni)
One of the biggest challenges in agrivoltaics is convincing investors it's worth the extra hassle of combining a solar array with agriculture, says Axel Weselek, a PhD candidate at the University of Hohenheim, Germany, who has studied how agrivoltaics can benefit crops such as potatoes, wheat and celeriac.
In plain financial terms, it's often more attractive to invest in simple photovoltaic installations that have nothing to do with farming, Weselek says. "Because, as an investor, you don't care about agricultural productivity – [just] the investment," he says. Installing an array around crops is more expensive because of the non-standard design and the cost of elevating the panels from the ground. The electrical yields are also lower because there are fewer panels per unit area to let the sun reach the plants underneath.
It can cost about €1m ($1.1m/£900,000) per 2.5 acres (10,000 sq m) in Italy to put up an agrivoltaic farm, according to Lancellotta, 7% more than a traditional photovoltaic one. The initial investment is substantial, with an expected return after six or seven years.
According to Lancellotta, today, few farmers can access that kind of capital. One option is to partner up with energy producers who profit from selling energy and pay a rent to the farmer who also cultivates crops underneath the panels. This, however, is not easy to do because routine agricultural activities can substantially reduce energy production, and vice versa, invasive maintenance works on the panels can damage the crops. Cooperation and good contracts are key for the system to work, Lancellotta says.
On his project, Lancellotta partnered with EF Solare Italia, the largest owner of solar plants in Italy. The firm owns the panels on top of Lancellotta's citruses farm Le Greenhouse, though the Lancellotta family also own a few themselves.
According to Andrea Ghiselli, the chief executive of EF Solare Italia, the only way to meet the country's demand for renewable energy in the next decade will be with agrivoltaics. Currently, only 9 of the 300 solar farms they own are agrivoltaic. Still, he says that 50% of new installations will be elevated, as it has become challenging to set up conventional solar farms in Italy.
CARBON COUNT
The emissions from travel it took to report this story were 30kg CO2, travelling by train. The digital emissions from this story are an estimated 1.2g to 3.6g CO2 per page view. Find out more about how we calculated this figure here.
"Can we afford photovoltaic farms without agriculture in Italy in the next few years?" Ghiselli says. Since the costs for investors are higher, he believes governments should write clear agrivoltaic farming guides and regulations to incentivise and protect investors.
This is an ongoing project. "There is a regulatory framework that is not certain, even if there is great interest from entrepreneurs," says Alessandra Scognamiglio, an agrivoltaics researcher and the president of the Italian Association of Sustainable Agrivoltaic. She is currently working with the Italian government to shape the new regulatory framework.
As we walk through the rows of trees, Lancellotta grabs a citrus blossom and hands it to me to eat: a sweet, tangy flavour unfurls in my mouth. Around us, bumblebees harvest the flower's pollen while goldfinches fly in and out of the greenhouse.
"Agriculture is an activity carried out on the land for the community that lives there," says Lancellotta. "And therefore photovoltaics too must be considered in this perspective. It must be designed for the community that lives in it."
Source : BBC News