Hollie Fallick looks over Brading on the Isle of Wight, at a patchwork of fields boarded by ancient oaks, which stretches to the Solent. "We still have to pinch ourselves every day," says the 30-year-old, as she surveys the 50 hectares (125 acres) she farms with her best friend, Francesca Cooper, 34.
The friends – who have five young children between them, were both vegan for a period, and are lifelong environmental activists – are not typical livestock farmers. And they don't practise typical farming: instead they are part of a growing global movement practising regenerative agriculture – or regen ag for short.
"Really simply, regenerative agriculture is nature-friendly farming," says Fallick, who says she stopped being vegan when her health suffered. "It's thinking about the health of soil, animals, humans and how they all link together."
On Nunwell home farm, which sits alongside land the pair manage for the Wildlife Trust and produces meat and eggs for their direct-to-consumer business, chickens peck away alongside belted Galloway cows, nomadic pigs graze on grass as well as kale and bean "cover crops" sown to boost nutrients in the soil.
The idea is that by following the basic principles of regen ag – not disturbing the soil, keeping it covered, maintaining living roots, growing a diverse range of crops and the use of grazing animals – they can regenerate tired and depleted soil and produce nutritious food. The work, they argue, is urgent. Up to 40% of the world's land is now degraded by industrial and harmful farming methods, according to the UN, while a recent study suggested improving soil could keep the world within the 1.5C heating target.
It's thinking about the health of soil, animals, humans and how they all link together
The pair – who make bank transfers from the quad bike, listen to regen ag podcasts while moving cattle and share ideas with likeminded farmers on WhatsApp groups – also promote their message and products in relentlessly upbeat Instagram reels. Do they see themselves as "farmfluencers"?
"We're part of a really exciting movement, and we want to spread the word," says Cooper. "And this way of farming is really sexy – I've been to plenty of other farms, and I wouldn't share them on Instagram."
This year more than 6,500 people turned up to Groundswell – a sort of Glastonbury for regen ag farmers – which had just 400 attenders to its first event in 2016. The first Scottish Groundswell opened a month later.
"The trend is definitely on the up," says Alex Cherry, who worked in the City before returning to his family farm and starting Groundswell. "There's a lot of conventional farmers who are now at least trying to adopt one or two of the principles."
He argues that the movement's momentum is unstoppable. In the EU, reforms to the common agricultural policy (CAP) came into force in January, with the bloc's Farm to Fork strategy aiming to reduce fertiliser use by 20% and halve chemical pesticides and soil nutrient loss.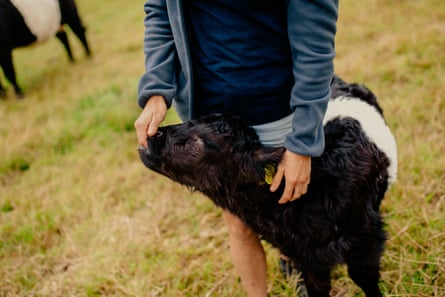 In the UK the government last year replaced CAP farm subsidies – which were based on the amount of land farmed – with environmental land management payments, which reward actions that protect the environment. In Scotland, where agriculture policy is devolved, the government's Vision for Agriculture aims for the country to become a "global leader in sustainable and regenerative agriculture".
Many farmers are also starting to look at their bottom line as the price of fuel and fertiliser rockets and more funding becomes available, says Martin Lines, the chair of the Nature Friendly Farming Network and a third generation farmer in Cambridgeshire. A 2018 study of 20 US farms found that while those using regenerative systems experienced a drop in yields of 29%, profitability increased by 78%.
Lines says his farm has reduced fuel use by 65% and its herbicide and fungicide bill by 70% and 60% respectively. "We're making more money," he says, simply. "Ten years ago that was not the case."
But this new breed of farmers will have to "stack enterprises" and fill out a lot more grant applications, he says. For example, a winter cover crop could garner payments from a water company, the government and a shepherd grazing their flock.
Among some more conventional, often older, farmers, there is resistance, he admits. Including from his own late father, who became increasingly agitated at their tractor sitting idle as they moved to a "no-till" system. "The cure was to hide it," he says. "Every time we weren't using it I parked on the neighbour's farm."
The figures suggest early take-up of grants is small scale: in 2022, the year of its launch, 2,000 farmers signed up to the sustainable farming incentive scheme, which paid out £10,692,415 – just 0.44% of the overall £2.4bn farming budget.
The movement has also faced opposition, including from the environmentalist George Monbiot, who last month dismissed the claim that livestock grazing could help mitigate the impact of climate breakdown as "climate science denial".
Monbiot, who argues that farming should be replaced with factories growing food in labs from microbes and water using precision fermentation, has called regenerative grazing "rebranded ranching" and argued that small-scale farming will not produce enough food.
But regen ag farmers argue that food security can be achieved with better managed farms and eating habits – according to a 2021 UN report globally a third of food is never eaten. "Farmers need to be producers of food not feed," says Lines.
Barnes Edwards, co-director of the Garlic Farm, which also farms regeneratively, argues that regen ag farmers recognise the "hideously negative impact" of badly managed livestock farming.
But they also argue "it's the how, not the cow", and say that cows pooing and trampling in diversely planted fields boosts soil health, micronutrients and attracts insects, birds and butterflies.
"Even if we don't eat them, cows can have a really helpful role in producing vegetables," he says.
Back on Nunwell home farm, around a battered kitchen table and holding mugs of steaming tea, Fallick and Cooper chat excitedly about their plans. They dream about producing a whole plate of food from the estate, and say they are in this for the long haul.
"Conventional farming has got us into this diversity crisis," says Fallick. "Farmers have to be involved in sorting it out."
Source : The Guardian