A vivid pencil portrait of an endangered tiger has won a place in a national exhibition.
Tracy Warner, from Crick, will see her work exhibited in Edinburgh and London.
She is one of the winners of the annual Sketch for Survival competition which raises awareness of conservation across the world.
All the winning artworks will eventually be sold at auction to raise money for conservation projects to protect endangered species.
Disappearing animals
Ms Warner said she'd been inspired by an image of elephants in a schoolbook when she was a youngster.
"There were hundreds of them walking across the plains and the caption that came with the picture was 'you will never see this again'.
"It hit me, even as a 10-year-old, how much impact we were having on the environment, so that drove a passion later on in my life to look at how my art can support conservation projects around the world."
The competition had more than 4,000 entrants this year and Ms Warner has made the final 100.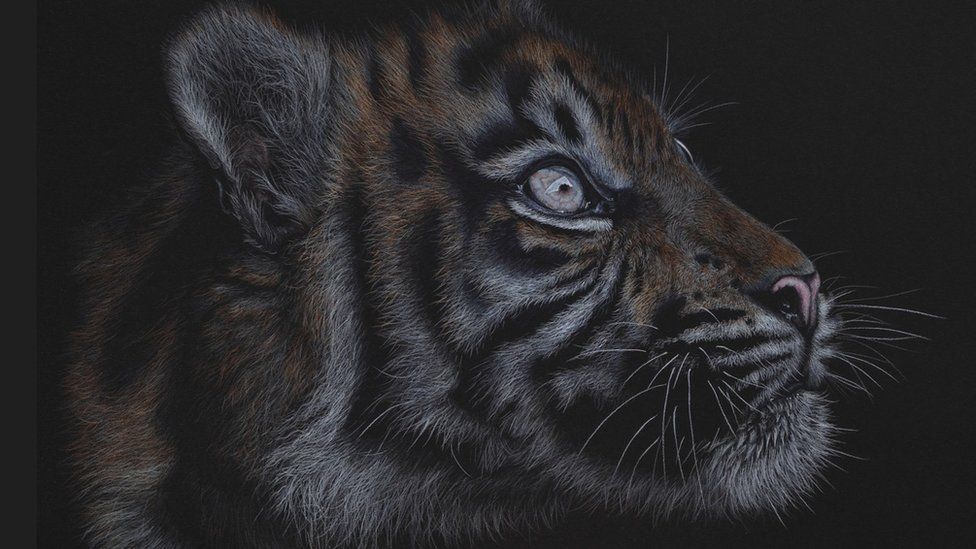 Her portrait depicts a Sumatran tiger, a species that has declined over the years with only about 500 thought to remain.
Facing the final battle
She said: "He's facing his last stand, essentially. It felt to me as if tigers are facing their last battle; this is a real fight that they've got on their hands now to actually survive the potential of extinction in the wild.
"I wanted to focus on the eye, so the eye is done very delicately with a lot of layering of pencils. lots of colours. I really wanted to draw the viewer into that eye."
Other species in this year's exhibition include a zebra shark, a spectacled flying fox, a Capercaillie bird, and a shoebill.
The works will be on display in the Autumn and an artist of the year will be chosen by the judging panel. There is also a people's choice award voted by members of the public.
Source : bbc