Two brazen racing pigeons have been spotted snooping around the church tower nest of one of their biggest predators.
Photographer and peregrine follower Chris Skipper posted a picture of the birds exploring the falcon nesting box on Cromer Parish Church.
A number of people commented on how lucky the pigeons were to escape.
The nesting box was set up after a male peregrine was seen for the first time at the Norfolk church in 2018.
It was joined by a female the following year.
Mr Skipper, who helped set up the nest box project and install cameras at the Cromer site, posted a photo of the two pigeons on a Facebook group, writing: "I know the pigeon fanciers don't like the peregrines but sometimes the pigeons come to the peregrines!
"Two racers in the box at Cromer earlier."
He added that at one point he had seen four pigeons in the nesting site.
His photo of the brave – or perhaps foolhardy – birds was seen by dozens of peregrine falcon fans.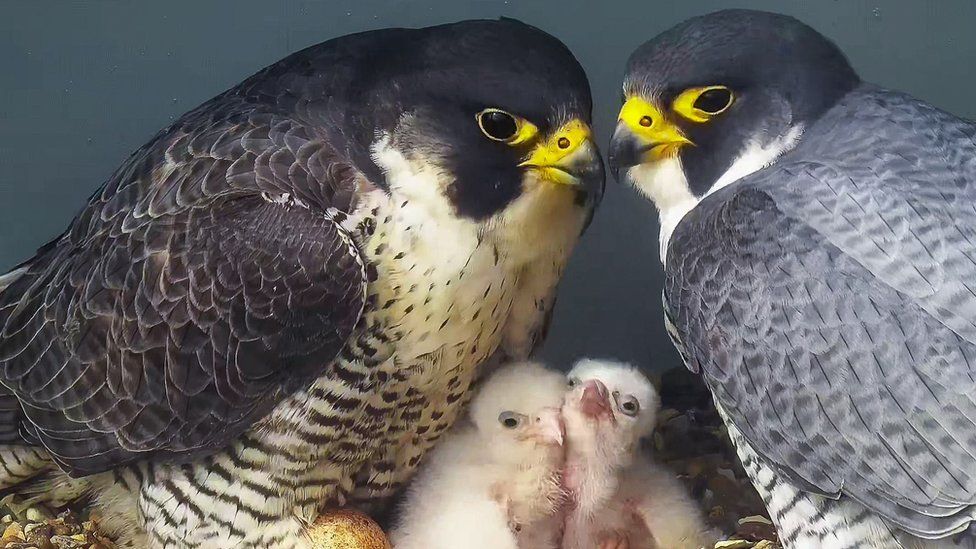 The nesting box is clearly marked with a sign saying "Cromer Peregrine Project".
A number of people asked if the visiting pigeons were "unable to read".
The Hawk and Owl Trust has set up several nesting boxes and webcams around the country.
Adrian Blumfield, from the trust, previously told the BBC that pigeons coming into close quarters with peregrines could be safe as the falcons "will only kill when hungry or feeding young" – so this pair of racers may have escaped for that reason.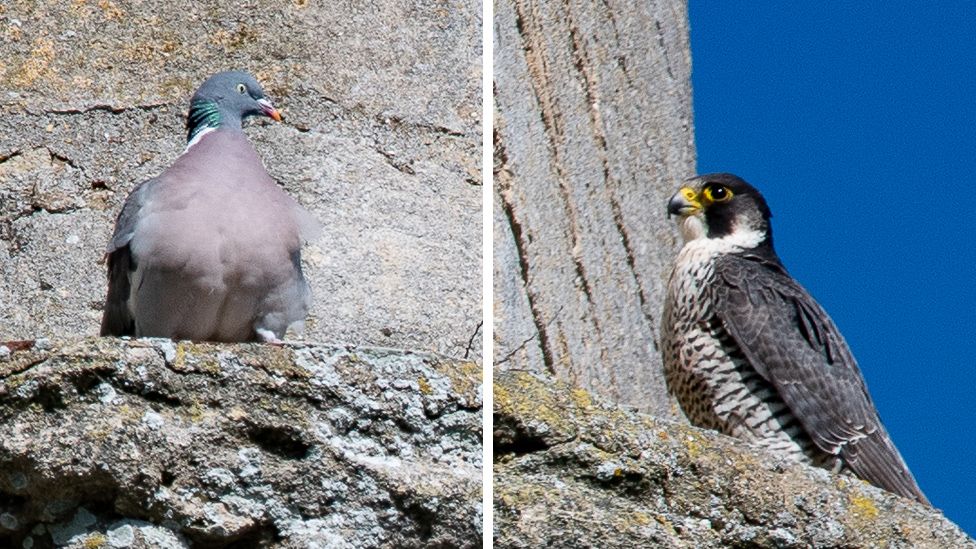 The birds of prey have a top flying speed of about 180mph (290km/h) when diving – making them the planet's fastest animal.
Mr Skipper also pointed out that while peregrines are extremely fast, they can "only out-fly a pigeon when they are stooping [swooping down on their prey from a height]".
"In straight flight the pigeon is faster," he said.
On this occasion at Cromer, he added that no pigeons were harmed and both flew away from the nesting box.
Richard Chamber, development officer at the Royal Pigeon Racing Association, said: "The two racing pigeons sitting in the peregrine falcon nesting box is a very unusual occurrence – we are certain that it would be very unlikely that the pigeons would be in the nesting box if the falcon was home.
"In the UK, the peregrine falcon is the number one predator of pigeons and is partly responsible for the decline of pigeon racing, so, we can definitely agree that these are two very brave racing pigeons."
Source : BBC