Metro Bank's shares plunged after reports it is seeking to raise millions to bolster its finances.
The bank's shares sank by as much as a third after newspapers reported it needed to raise up to £600m.
Metro Bank sought to reassure investors about its financial position on Thursday.
It did not comment on the figure, but said it "continues to consider how best to enhance its capital resources".
The BBC understands Treasury officials have been in touch with the Prudential Regulation Authority, the financial services regulator, who is monitoring the situation at Metro Bank.
It followed earlier talks between the regulator and Metro Bank itself, which insiders at the company portrayed as routine conversations.
The bank has stressed that its finances remain strong and it continues to meet all regulatory requirements.
Customer deposits up to £85,000 are guaranteed by the Financial Services Compensation Scheme, which guarantees that if a bank runs into trouble, depositors will get their money back up to that level.
Metro Bank was founded in the wake of the financial crisis and was the first to open in the UK in more than 100 years.
It positioned itself as a so-called "challenger" bank to the big High Street names when it was founded in 2010, with its promise of being open seven days a week, and it now has about 2.7 million customers.
Its shares were briefly suspended on Thursday morning and dropped more than 25% by the time markets closed. They had already suffered hefty falls last month after regulators refused to approve a request to lower the capital, or cash, requirements attached to its mortgage business.
The bank is now considering a number of options to boost its balance sheet before some £350m worth of debt will need to be refinanced in October 2025.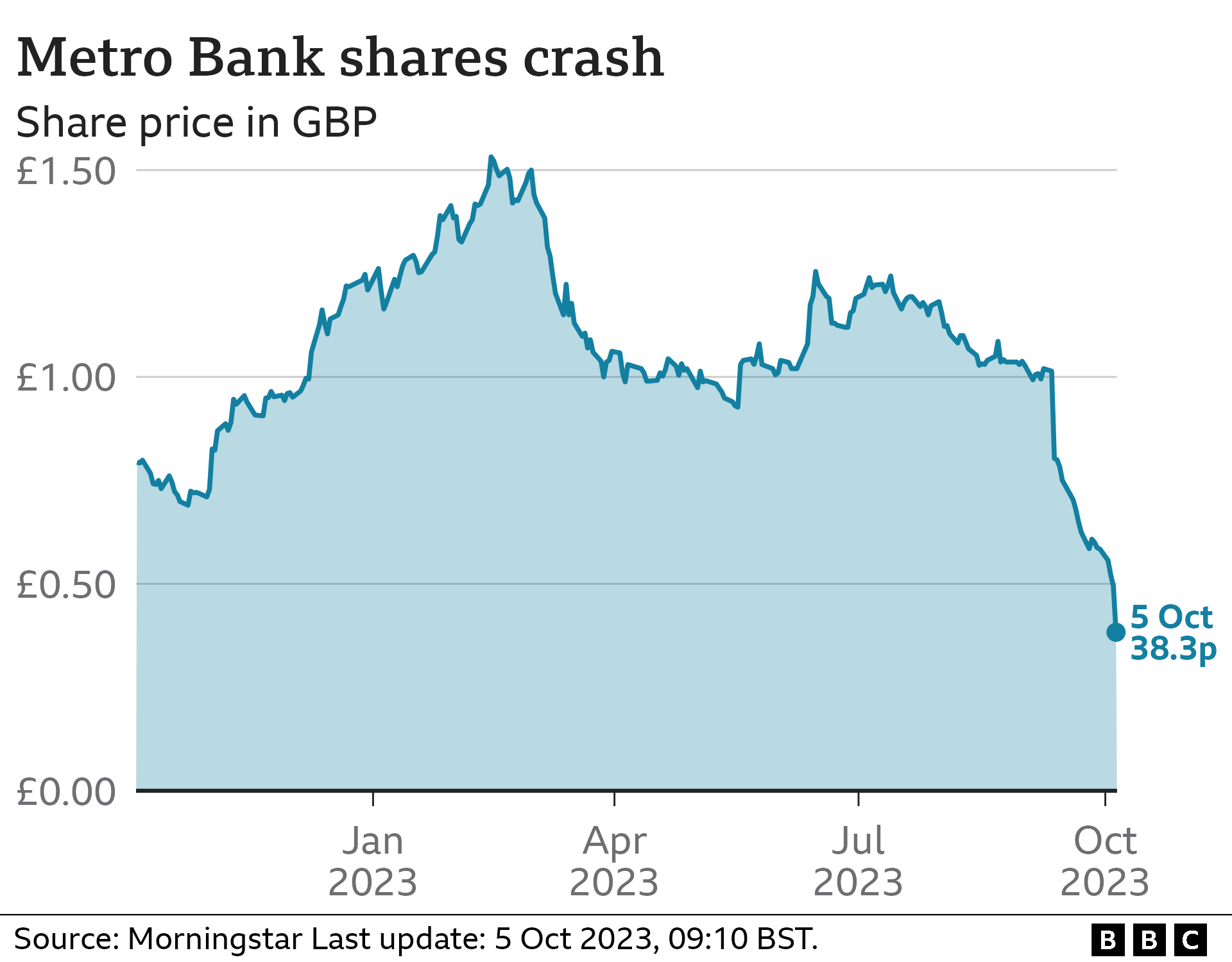 A share sale of some £100m is apparently on the table. The bank has also asked advisers at Morgan Stanley to work on a deal with the hopes of raising millions in an equity sale, borrowing up to £350m as well as looking at the potential sale of assets – the money and property owned by a bank.
Metro Bank stressed that no decision had been made as yet and that it was meeting all of the minimum cash requirements set out by financial watchdogs.
It is understood its chairman Robert Sharpe met with bosses at the Prudential Regulation Authority on Thursday morning.
But there are some concerns that the High Street lender may struggle to raise the money it might need in the future.
It returned to profit in the six months to the end of June this year, partly helped by higher interest rates.
This marked the first half-year profit the bank had seen since an accounting scandal in 2019, when it emerged that risk attached to some of its loans had been underestimated.
Its current boss Daniel Frumkin said in July that 2023 would be a "transitional year" for the bank.
Ratings agency Fitch placed Metro Bank on negative watch on Wednesday, citing concerns over its capital strength and funding, as well as its business model.
Metro Bank's stock market value is now less than £100m, having been valued at around £3.5bn at its peak five years ago.
When it was founded in 2010, it won attention for having branches open seven days a week and offering small touches like water bowls for customers' dogs.
But Russ Mould, investment director at AJ Bell, said: "Metro Bank has been struggling for years to get on a path to sustained profitability and has made lots of mistakes.
"It seems Metro was rather less adept at the nuts and bolts of banking itself. The key question is will it find enough backers should it conduct a fundraise?"
He also suggested that some existing investors might feel they have no choice but to take part in any fundraising, "though they are unlikely to do so with any great enthusiasm".
Source : bbc