Scotland has long-known it was not part of the HS2 plans but Rishi Sunak's announcement that he is to scrap the line from Birmingham to Manchester will still have an impact north of the border.
Until last year there was a plan for high-speed trains to eventually travel to Scotland on existing tracks via the so-called Golborne Link, a 13-mile stretch in Cheshire.
It would have connected the HS2 line to the existing West Coast Main Line built by Victorian engineers.
However, high-speed trains on lower-speed tracks would bring little benefit north to Scotland if there was no increase in track capacity.
Journey times to Glasgow could have been cut by 50 minutes, but it is in capacity rather than speed that the impact of the announcement is likely to have most impact on the economy north of Manchester.
Much of the congestion on the West Coast Main Line is between Manchester and Birmingham, which now will not get a HS2 link.
This means long-distance trains have to share track space with local services.
More rail capacity would allow for more freight on the rails and more passenger trains, in response to fast-rising demand.
Passenger numbers on the West Coast Main Line doubled from 2008 up to the pandemic.
Patterns of commuting have changed since the pandemic but leisure and business rail travel have come back since the pandemic.
That demand for passenger rail has constrained the amount of freight that can be put on those tracks. So more freight goes on to the roads, and gets stuck in more road congestion.
Much of the Scottish consumer economy is serviced from warehouses in the English Midlands, and depends on those road and rail links to be efficient.
So the big benefits in reduced congestion will probably not now be realised, and the north of England's transport system may remain one of the biggest bottlenecks for the Scottish economy.
After Mr Sunak's announcement, the Institute of Directors in Scotland raised concerns that air travel would continue to be the fastest way for business leaders to reach London.
They said faster train journeys from Glasgow and Edinburgh to London were essential to help Scottish businesses grow – and to attract new investment.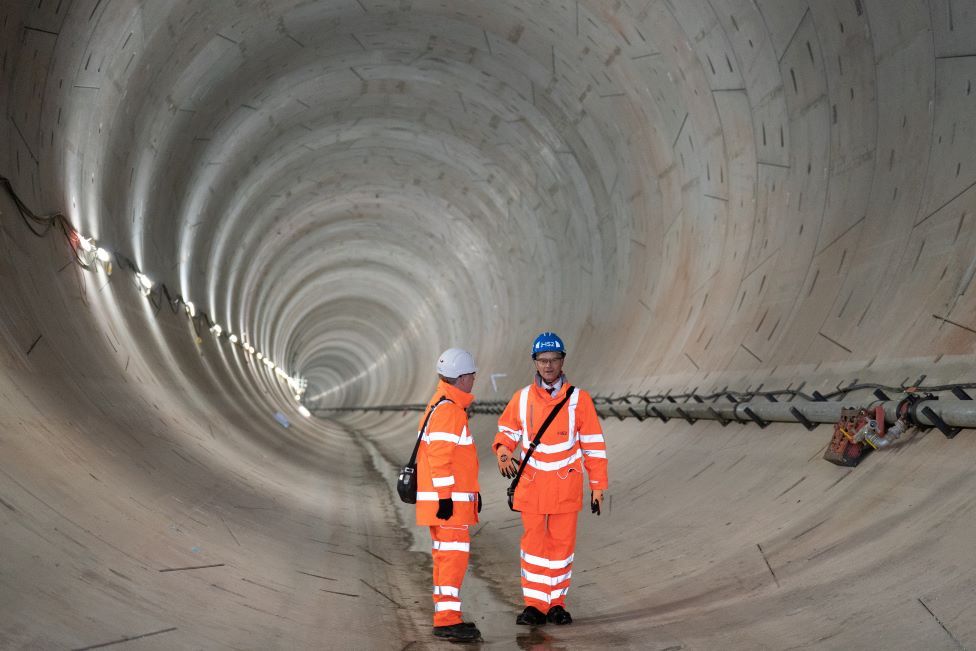 High-speed rail in continental Europe is found to compete well with air travel up to 400 miles – the distance between London and the Scottish central belt.
One forecast made by HS2 planners was that reducing journey times between Scotland and London to only three hours could boost passenger numbers by four million, and increase rail's share of passengers doing that journey from 29% to 75%.
Along with the prime minister's cancellation of HS2, there was a long list of transport projects around Britain which, he said, would be built using the money that was no longer being spent on high-speed rail.
He did not say when that money would be released.
While many of the projects improve road and rail in the north of England, that is also seen by Downing Street as the main benefit to Scotland.
The list of projects under 'Scotland' includes improvements to the A1 between Newcastle and Berwick, and the M6 through Cumbria, both of which are important freight routes for Scotland.
Only two of the projects listed are in Scotland – improving the A75 between Dumfries and Stranraer, and the A77 in Ayrshire, both of which are important road links for Northern Ireland.
A further impact of the HS2 announcement for the south of Scotland is the likely end of plans to locate a 'stabling facility' in Dumfriesshire for the servicing and maintenance of high-speed trains.
That would have meant the creation of around 100 skilled and unskilled jobs.
The PM's announcement during his Conservative Party conference address is highly political, and there will not just be backlash from the north of England.
Improving rail connections, and showing competence in getting big transport infrastructure delivered, was seen by the UK government as part of "Union connectivity", and part of the argument against Scottish independence.
Source : bbc