More than 90% of freshwater habitats on England's most precious rivers are in unfavourable condition, blighted by farming pollution, raw sewage and water abstraction, an Observer investigation reveals.
None of the approximately 40 rivers with protected habitats in England are in overall good health, according to an analysis of government inspection reports. These include the River Avon in Hampshire, the Wensum in Norfolk and the Eden in Cumbria.
Recent government figures show that only 9.9% of these habitats on sites of special scientific interest (SSSI) are in favourable condition. SSSI status encompasses freshwater habitats, along with nearby woodland, marsh and fenland. In comparison 59.4% of protected habitats on coasts and estuaries are in favourable condition. The Observer's analysis suggests the freshwater habitats are most at threat because of a cocktail of pollution from agricultural runoff, sewage discharges and microplastics, as well as damaging human interventions such as dredging.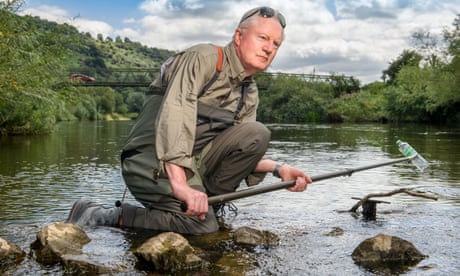 Out of 256 assessments of freshwater habitats on 38 English rivers that are SSSIs, just 23 (9%) were in favourable condition, meaning they are in a healthy state and are being conserved by appropriate management.
"It is an utter disgrace," said Charles Watson, founder and chair of the charity River Action, which raises awareness of river pollution and the need for solutions. "These should be the most protected river catchments in the country, but there has been a total failure of regulation."
Some of the SSSI river sections have not been inspected since 2010 because of lack of funds. Volunteers across the country are stepping in to measure the quality of their local rivers and are demanding action to counter what they claim to be the government's inadequate inspection regime.
Campaigners believe the government is not taking the problem seriously enough. SSSIs are meant to safeguard England's most important areas of natural heritage, and Natural England, the conservation watchdog, has a legal duty to protect them. But when the Department for Environment, Food and Rural Affairs (Defra) was asked by the Observer more than a week ago for "a list of rivers in England which are sites of special scientific interest and their current status", it responded it was unable to "get this specific dataset".
On the River Avon, one of the country's most diverse chalk streams, which rises in Wiltshire and flows into Hampshire, there are 17 stretches of river and streams that are protected habitats and just two are in favourable condition. "Water quality fails on several indicators," said an assessment from September 2021.
The River Wensum, which flows from its source in north-west Norfolk to its confluence with the River Yare, has excessive phosphate concentration at all points where there is monitoring data. Excess nutrients in the water can cause the rapid growth of certain plants and algae blooms that damage habitats.
The River Eden and its tributaries in Cumbria have 35 stretches of water that are protected habitats. None are in favourable condition. Assessments found physical barriers to salmon migration and several stretches "exceeding the phosphorus target". A charity, the Eden Rivers Trust, has been working to protect and restore the river.
The six stretches of the River Itchen in Hampshire that are SSSI units are all classified as unfavourable. A Natural England document says "water quality measurements show phosphorus concentrations to be exceeding the targets in most units".
All four stretches assessed on the River Kennet, a tributary of the River Thames, are classified as unfavourable, but are considered to be recovering with a strategy to improve the health of the river.
A June 2022 Natural England assessments says the long-term issues have been low water flow, discharges from sewage treatment systems and channel modification such as dredging.
The condition of the River Wye was downgraded in May after a campaign over the impact of intensive chicken farming, and following sampling of the river by volunteers. All seven stretches of the Wye assessed as SSSIs are now "unfavourable-declining", along with all four SSSI units on its tributary the River Lugg. The River Wye is showing declines in salmon and white-clawed crayfish, while water quality on the Lugg has declined.
The Environment Agency and Natural England have a joint river restoration programme for about 30 rivers and their catchments, covering most of the main SSSI rivers with projects continuing across the country. The work includes environmental schemes aiming to restore the Avon, Eden, Wensum, Kennet, Itchen, Wye and Lugg. The River Restoration Centre, which advises the government on the programme, said more resources were required.
An assessment of water bodies published under the EU water framework directive in September 2020 showed the proportion of rivers in England with good ecological status was 14%, but that none achieved good status for chemicals.
A river must be considered good in both categories to be classified good overall, so no rivers met the criteria.skip past newsletter promotion
Government target dates for water bodies to achieve good chemical and ecological status range from 2027 to 2063.
Natural England's chair, Tony Juniper, said: "We are incredibly fortunate to have so many fantastic rivers in England – including nearly all of the world's precious chalk streams – and many of these rivers are protected because of their outstanding natural features.
"However, most are under huge pressure, from overabstraction to chemical pollution and from physical modification, to now, also, the effects of global heating. Many of the pressures causing river health to decline, such as runoff from fields, can arise some distance away from our sites of special scientific interest, but cause damage nonetheless.
"That's why an integrated approach is essential to restoring our rivers – working together with partners to deliver solutions that work for farmers, landowners and industry and the environment on which we all depend."
"Working at the level of whole catchments is an essential part of this integrated approach, bringing together action on wastewater treatment, abstraction, farming, housing, infrastructure and physical habitat restoration to create rivers resilient to climate impacts.
"I'm very pleased the government is increasingly focused on catchment-scale action, which will help to deliver the national target to restore all protected sites, including SSSI rivers, to favourable condition by 2042."
A spokesperson for Defra said its own published figures showing SSSI unit conditions along rivers were "experimental" statistics.
They said: "Overall, 89% of priority habitats are in favourable condition or recovering. But our rivers and rare chalk streams are hugely important to communities and to nature– as are the protected sites they flow through – which is why we are prioritising their recovery.
"Our environmental improvement plan, published this January, marked a step change in how we deliver our commitment to restore 75% of our protected sites to a favourable condition by 2042 – setting an interim target to turn things around now, helping nature to recover, and putting us on the right path to achieving this goal by 31 January 2028.
"Our plan for water sets out how we will tackle every source of water pollution alongside additional investment, stronger regulation and tougher enforcement on those who pollute. On top of this, our storm overflows discharge reduction plan set strict new targets on water companies and it prioritises action in ecologically important sites – such as SSSIs – so overflows in these areas are addressed. We will continue to work with Natural England and other partners to drive actions that return our protected sites to favourable condition."
Source : The Guardian