Archaeologists want permission to carry out a new survey of the site of Jersey's largest coin hoard to stop people illegally searching and looting.
The Le Catillon II hoard was discovered in the east of the island in 2012 by two metal detectorists after a similar find on the site in 1957.
The hoard contains about 70,000 coins as well as valuable Iron Age artefacts.
Societe Jersiaise is seeking planning permission to carry out archaeological surveys in the same area of the island.
Plans submitted online said the move had been "prompted by recent instances of nighthawking and archaeological looting, which have been reported to the authorities since 2021".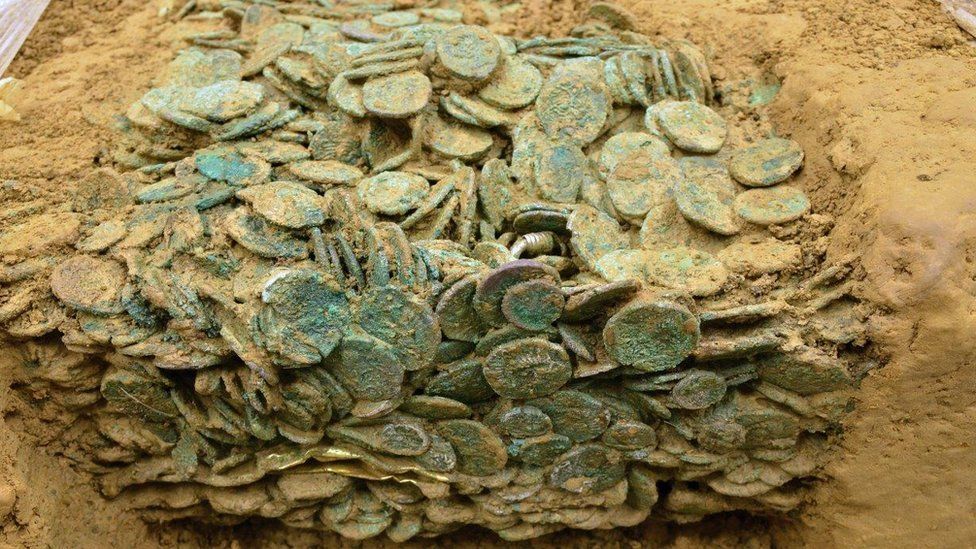 Herve Duval-Gatignol, Field Archaeologist for Societe Jersiaise, said it was a "serious matter" with unauthorised tracks and new holes found nearby.
He said the survey would help "preserve the site and recover any artefacts that may still be there buried in this field, to avoid any further night hawking".
They are not planning to excavate the site but to carry out non-invasive surveys to see if there is evidence of more artefacts.
He said: "It is really hard to address this issue.
"In other countries you might put cameras in but I think the best thing is to talk to the public and tell them this practice is not acceptable.
"This is just a group of two or maybe three people and the large majority of metal detectorists on the island are very aware that they don't go to listed sites.
"We feel like we need to do something and, depending on the results [of the survey], we will address this issue."
The site is Grade 1 listed, with objects discovered related to the late Iron Age or the start of the Roman period.
Source : bbc