The government's delays in implementing low-carbon building regulations have benefited housebuilders and property developers by billions of pounds over the last eight years, while UK households shoulder the cost of soaring energy bills amid the energy crisis.
The sector, which is a significant Conservative donor overall, has saved at least £15bn since 2015 by building homes to old standards, without solar panels and batteries, heat pumps and effective insulation, a Guardian investigation recently found.
As a result, many Britons live in new-build homes that, despite having been constructed in the past few years, are far from futureproof. Renters and homeowners tell the Guardian about moving into brand-new properties that run on gas boilers and lack top grade insulation – leaving householders vulnerable to climbing bills and increased retrofitting costs.
'It's almost impossible to heat the house to a comfortable temperature'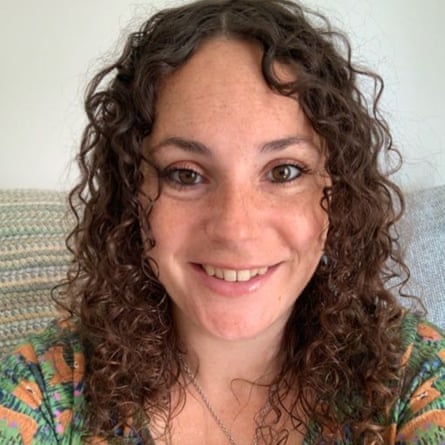 When Natasha Cox and her family moved into their four-bed detached home in Rossendale, Lancashire, she was disappointed to find that its energy performance certificate (EPC) was B grade – a band below that for her previous home, and far from "low carbon", despite only having been completed in March 2022. Although the home is well insulated, its B-grade windows mean you can "feel the wind on the back of your neck", she said.
"When the temperature drops to about 10 degrees or less, the windows are soaking wet, which has ruined blinds, window ledges and walls around the windows," said Cox, who used to work as a building surveyor. "It's almost impossible to heat the house to a comfortable temperature."
Cox said the only nod toward building to "low carbon" specs was an electric vehicle (EV) charging point outside the property. She would love to move away from a reliance on gas and install solar panels and a heat pump to replace their inefficient boiler, but upfront costs have so far kept them out of reach for the family of five.
She said she hoped the government would introduce legislation to ensure new homes are built to green standards: "Someone's got to do it – housebuilders just want the cheapest thing possible."
'The rudimentary heating elements surprised me'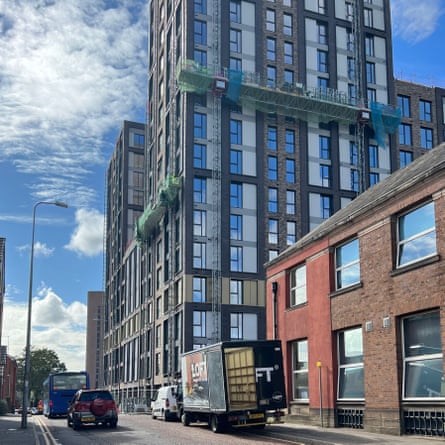 Douglas Jackson, a 45-year-old project manager, recently returned to Preston from Sweden, and moved into a new-build rental apartment block that only opened to tenants last month. So he was puzzled to find that the energy rating was "very poor" for the room heaters and electric heating, and EPC B overall. "It's billing itself as a high-end apartment block … then to have such rudimentary heating elements surprised me," he said.
Jackson said that in Sweden, where he had a heat pump, the awareness of building sustainably was "very different" from in the UK.
After Keir Starmer pledged that Labour would build 1.5m homes in five years, Jackson said he hoped that the party's housebuilding plan would herald a move towards greater sustainability. "If there's a push to do volume-built housing, it should absolutely be an opportunity to put the right systems in place. "Some costs should go down due to the volume [of building] as well."
'Solar panels are a no-brainer'
Yet some other properties are doing things better. When Sam Shaw, 31, and his partner moved into a brand-new three-bed semi-detached in 2021, they got a pleasant surprise: the south side of the property's roof was kitted out with 3.5kW of solar panels, which had not been in the original plan for the EPC A-grade home.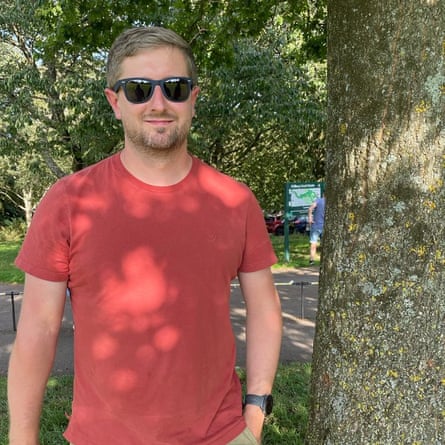 The panels mean that despite the rise in energy prices since his move-in date, Shaw's combined electricity and gas payment has remained at £30 monthly, as the household exports and is paid for any excess energy generated to the grid. "Solar panels are a no-brainer – costs have come down so much," he said. The property is wired to host an EV charger, though one has not yet been installed, and Shaw said he "sees an EV in [their] future".
But with the home connected to the gas grid, more could be done to make it low-carbon, said Shaw, a sustainable forestry auditor. "If the house had an induction hob and a heat pump we'd be able to generate almost all the power we need with solar, and our bills would be even lower." The property can get quite warm in the summer, and an air heat pump would mean they could sustainably cool it when needed.
Shaw also said the lack of amenities near their estate encouraged car use. Despite having good bus links into central Bristol, "there are no services within the immediate area – if you need to do a big shop, you end up driving".
'It could have been better'
Amid the energy crisis, Luke, a 38-year-old lab technician based in Wolverhampton, was among those feeling frustrated to have to rely on the gas grid. While the insulation is good in his 2020 home, which he shares with his wife and six-month-old child, it has a gas combination boiler, no solar panels and an EPC rating of B.
The house not being low-carbon "is quite frustrating", he said. "The energy bills compared with the average are quite low – but you just think, it could have been better."
When Luke bought the house during construction he was surprised it "wasn't even an option" to get solar panels. More recently, nine months ago, Luke was quoted £5,100 as the cost of installing a heat pump, including government discount, but costs can be much higher. "I don't think many people will do that," he said.
For Luke, it was irksome to weigh up lost savings amid the cost of living squeeze. "With the energy crisis as it was, if we had solar panels, we quite frankly would have been laughing," he said.
"It's really vital that [new] houses are built to much more modern standards, not just insulation, but heat pumps, not connected to the gas grid at all. It would be crazy to not put those things in."
Source : The Guardian