Hundreds of climate activists have marched in Edinburgh as part of a global day of action against fossil fuels.
The march was organised by groups including Friends of the Earth Scotland, Extinction Rebellion and Greenpeace.
The route took them past UK government offices to the Scottish Parliament.
They are calling on the UK government to cancel its latest tranche of 100 oil and gas exploration licences.
Prime Minister Rushi Sunak announced the new licences in in July alongside funding for a carbon capture project in the north east of Scotland.
Last week, Friends of the Earth Scotland published an open letter to the first minister, asking that he "get off the fence" and oppose plans for the Rosebank oil field.
Rosebank is the biggest undeveloped oil field in UK waters containing between 300 and 500 million barrels of oil and lies 80 miles west of Shetland.
The UK oil and gas regulator is considering whether or not to allow drilling there.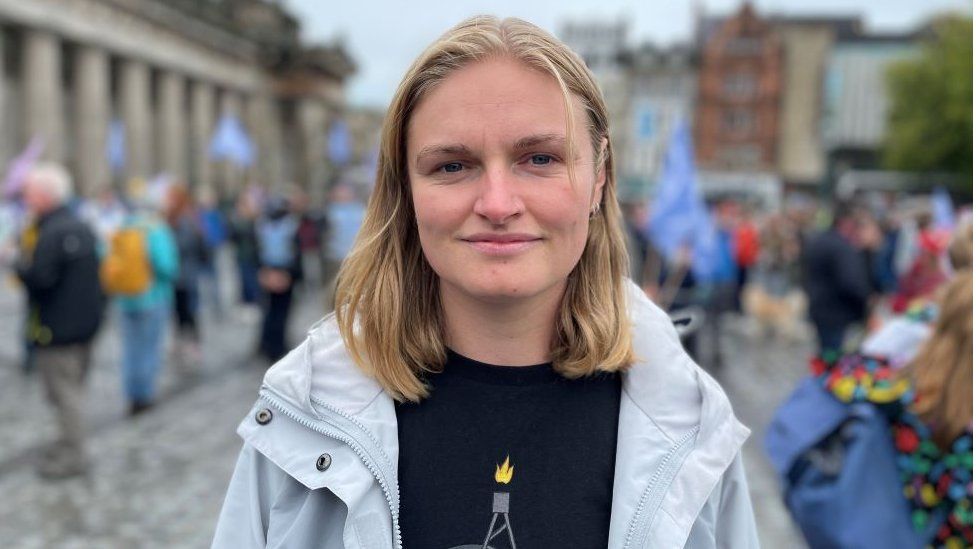 Freya Aitchison, of Friends of the Earth Scotland, said she wanted the first minister to oppose attempts to drill there.
"We need the Scottish government to speak up against new oil and gas such as Rosebank and also to say no to a new gas-fired power station in Peterhead, which would prolong demand for gas from the North Sea," she said.
Other marchers spoke of their concern about the state of the climate after a summer of extreme weather events.
Luke Henderson, of the Edinburgh Climate Coalition, said the UK cannot continue to lock itself into decades of relying on fossil fuels.
He added: "You can see it on the news every single day there's a climate related crisis.
"And we are just at the first step of this process. The first step.
"It's going to get worse and worse and worse. We've got to stop it now."
Transition to renewable energy
A Scottish government spokesperson said the first minister had made it plain that climate change was a "key priority" for his administration.
"Earlier this year we consulted on our draft Energy Strategy and Just Transition Plan, which sets out the importance of the development of Scotland's future energy system for our economy," they said.
"We are backing this up with almost £5bn of investment in the net zero energy economy in Scotland over this parliamentary term."
A UK department for energy security and net zero spokesperson said the transition to non-fossil forms of energy could not happen overnight.
"Even when we're net zero, we will still need some oil and gas – the industry also significantly boosts the Scottish economy, estimated to support around 90,000 jobs," they said.
"Independent research has shown domestically produced gas is on average four times cleaner than imports."
Source : bbc