Swimmers have held a protest in the River Thames to call for urgent action to clean up river pollution.
The swim, in Henley, was led by campaigners, Tim Wakefield and Ben Covey, who are swimming, rowing and paddle boarding to Westminster.
The pair are travelling 147 miles (237km) along the Thames to hand in a petition to Westminster.
Ministers say there will be more investment over the next 25 years and stronger regulation.
Mr Wakefield and Mr Covey want rivers and freshwaters cleaned up by 2030. A petition set up by River Action has so far reached more than 101,000 signatures.
They were joined on the 2km (1.2-mile) swim by members of The Henley Mermaids who held their own protest swim in November to raise awareness of pollution in Britain's rivers.
Tim Wakefield said: "I've lived within a stone's throw of the River Thames all my life and I want my children, and their children, to enjoy the river in the same way I have without the risk of getting sick."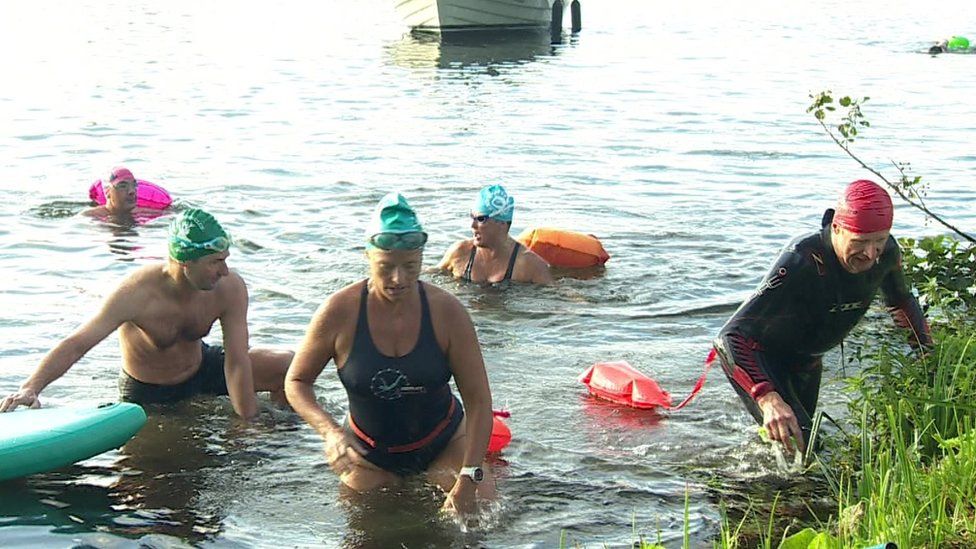 The next leg will see them paddle board from Cookham to Penton Hook Marina on Sunday.
The pair are making the journey to support River Action, a water quality charity, they expect to reach Tower Bridge by 21 September.
The government said "the volume of sewage discharged is completely unacceptable".
It said its plan for water cleanliness would see more investment over the next 25 years and stronger regulation.
Thames Water said it was working with charity Thames21 to provide lab analysis "for a citizen science water quality investigation, in support of their intent to apply for Bathing Water status in Henley".
The water firm said an upgrade was also planned for Henley Sewage Treatment Works which "will reduce the need for untreated discharges in wet weather". It said it was expected to be finished in 2025.
Water companies are allowed to release sewage after it has rained, to prevent it overwhelming the system and backing up into people's homes.
The Environment Agency (EA) currently allows sewage to be discharged on any day when it has rained and only investigates if there has been sewage released on a "dry day".
The EA is currently conducting its largest criminal investigation into releases made during dry weather by water companies.
Source : bbc